至诚甄选—新西兰乳制品与水果研讨会
15/06/2021
初夏的五月,艳阳高照、晴空万里,味蕾与烈日一样蠢蠢欲动。
这一次,ChefCo将闻名世界的新西兰乳制品与水果带到了上海,在上海新西兰中心,举办了一场以乳制品与水果为主题的研讨会。

In May, Chefco designed a workshop which highlighted New Zealand dairy and fruits.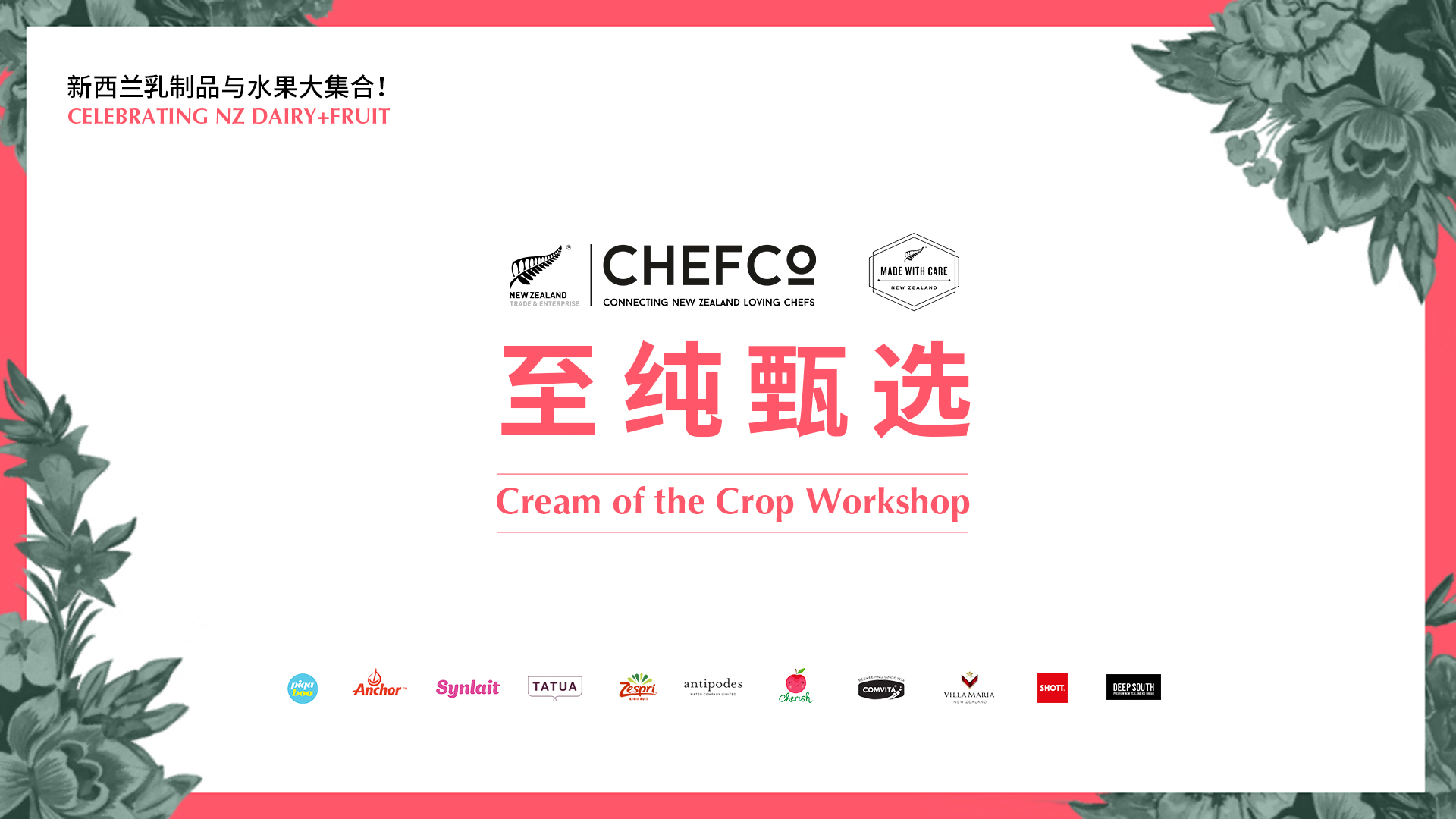 知名西餐厅The Commune Social 食社主厨Sergio, Yoyo与Mia 为当天的活动精心制作了一系列美食,将不同新西兰品牌的乳制品与水果,肉类,海鲜等结合,带领大家探索了新西兰不同食材搭配的表现。

The Commune Social Chefs Sergio, Yoyo, and Mia made a series of delicacies for the workshop. Combining New Zealand dairy products with fruits, honey, meat, and seafood. Took the guests on a journey of how various New Zealand ingredients work together.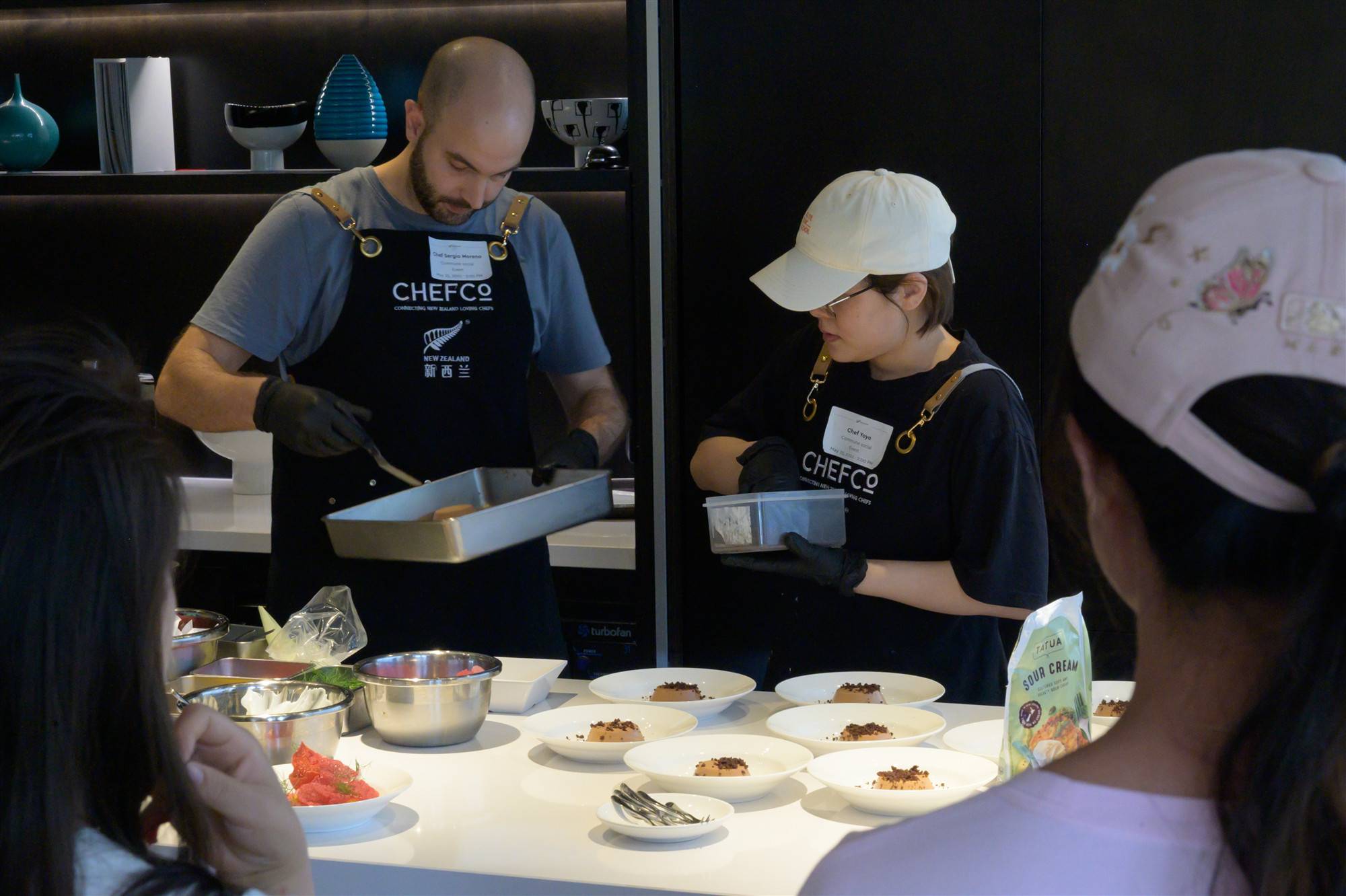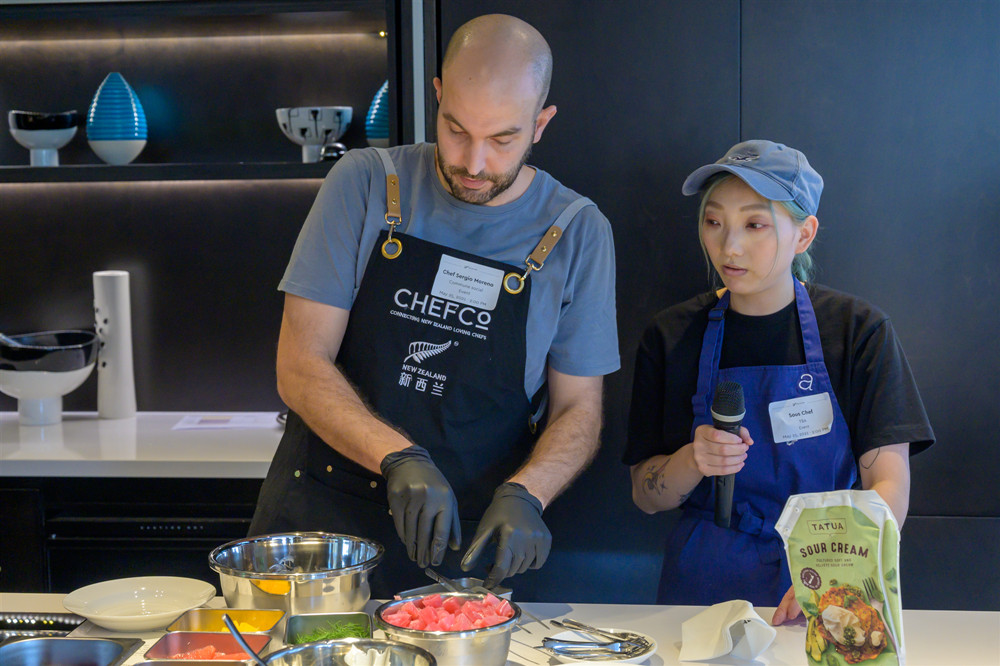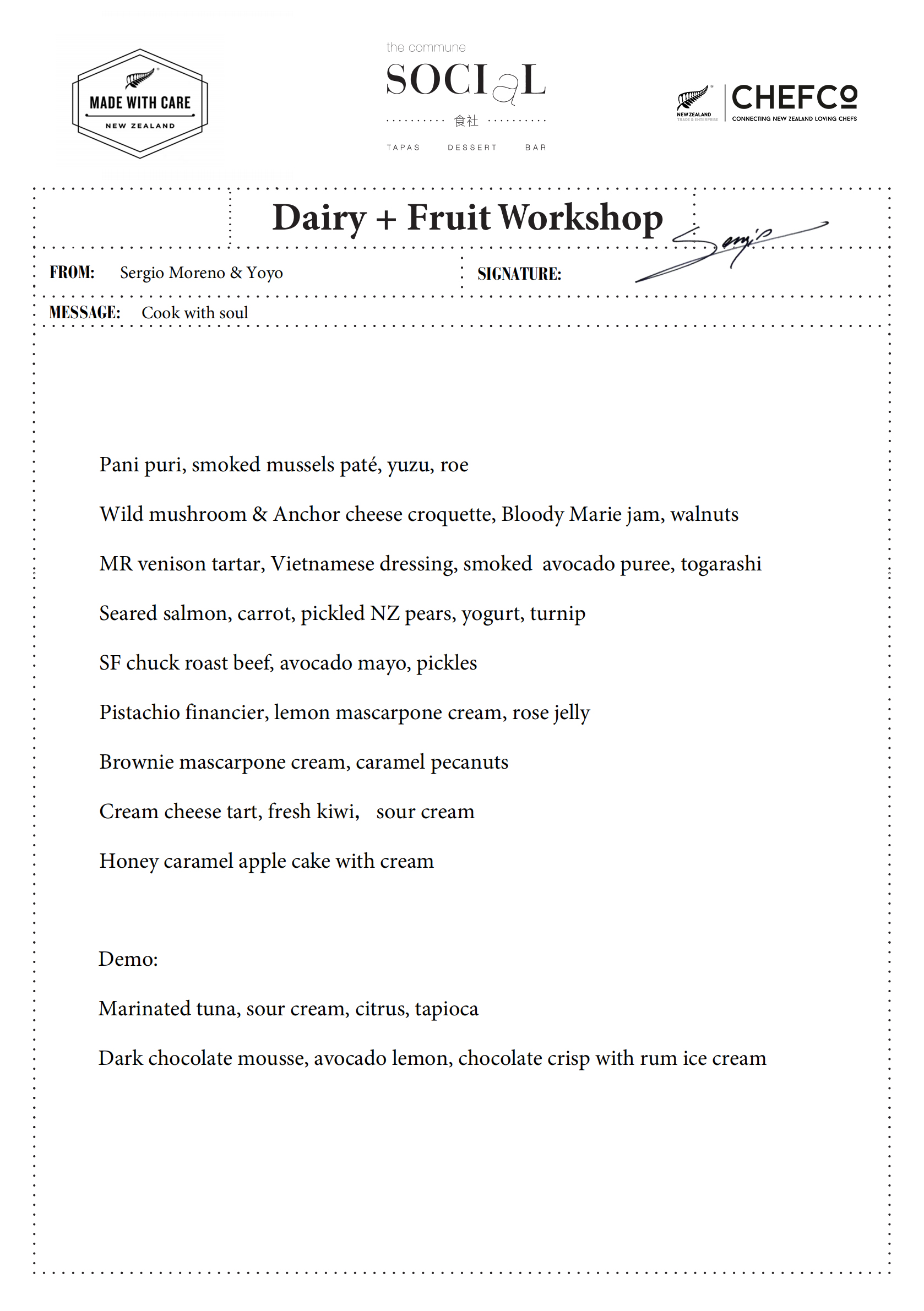 焦糖碧根果布朗尼,来自Tatua马斯卡彭与Synlait稀奶油的完美结合。
Synlait稀奶油打发度高,稳定性好,打发出的奶油稳定性与持久性都很高,能很好的维持甜品的高颜值。Tatua马斯卡彭的加入,能为奶油增添丝一般的柔滑感,奶香在唇齿间的停留也会被增强和延长。

Brownie mascarpone cream, made of Tatua mascarpone cream and Synlait whipped cream.

Synlait has excellent whipping ability and stability, can make cream stay stiff longer, and is good for maintaining the polished appearance of desserts.
The addition of the Tatua mascarpone adds a silky creamy texture, which enhances and prolongs the lingering creamy mouthfeel.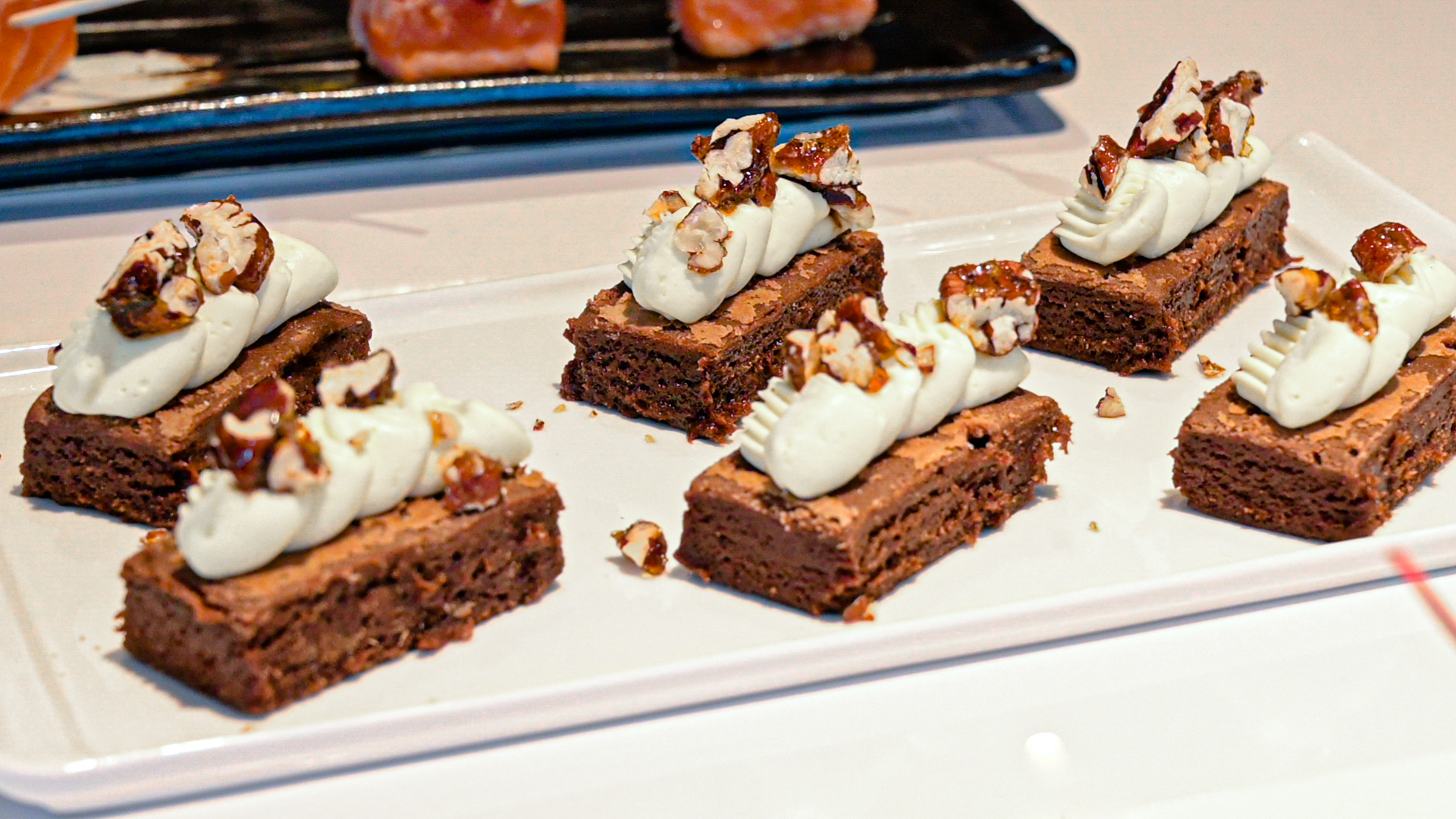 蘑菇,核桃与安佳奶油芝士揉捏而成的芝士奶油球,非常受大家的喜欢。
安佳奶油芝士能很好的与咸、甜、辣等多种风味食材混合。这款芝士奶油球入口绵密松软,蘑菇的鲜美与芝士的奶香搭配出了丰富的口感。

一旁看起来非常特别可爱的半圆点心叫印度泡泡,用三文鱼籽,贻贝酱,柚子汁与Tatua酸奶油制成。
Tatua的酸奶油,酸味柔和,兼具酸香奶香融合的风味,是奶油家族中的"小清新"。轻盈润口的质地,不仅能和各种甜品搭配,用来搭配海鲜也是极为美味。

Mushrooms, walnuts, and Anchor cream cheese croquette is one of the most popular dishes of the day.
Anchor cream cheese is good at mixing with different flavours of ingredients. This croquette is soft and fluffy in the mouth. The freshness of mushrooms and the creamy aroma of cheese combine, create a rich texture.

Pani puri, made of smoked mussels pate, yuzu, roe, and Tatua sour cream.
Tatua's sour cream has a light texture and soft sourness, which not only goes well with a variety of desserts but also a great accompaniment to seafood.
在这款金枪鱼木薯脆片中,Tatua酸奶油的加入突出了金枪鱼的鲜美肥润,也为清淡的木薯脆片增添了别样的风味。
In this marinated tuna, the addition of Tatua's sour cream highlights the umami and fattiness of the tuna, it also balances out the crisp dryness of the light tapioca.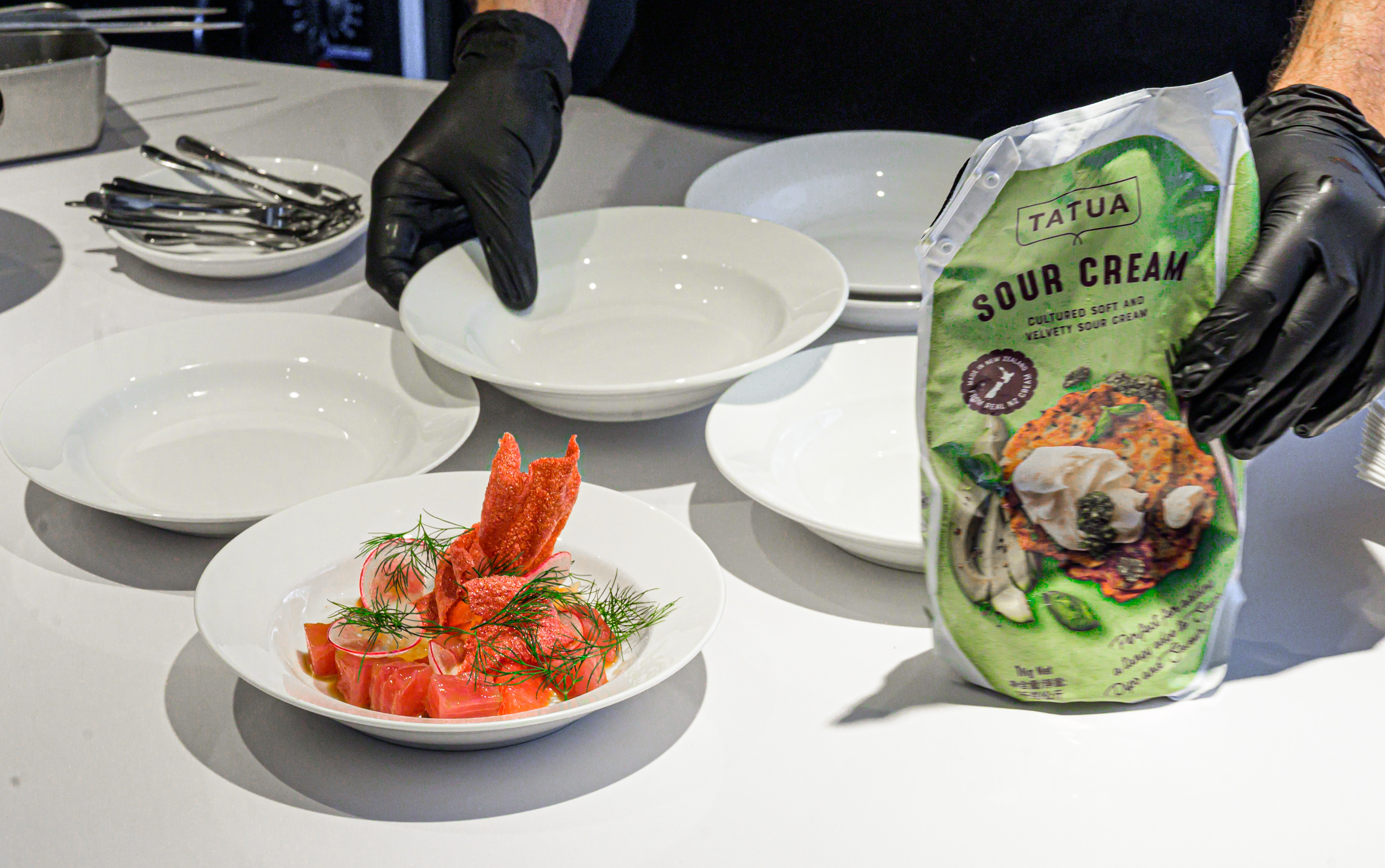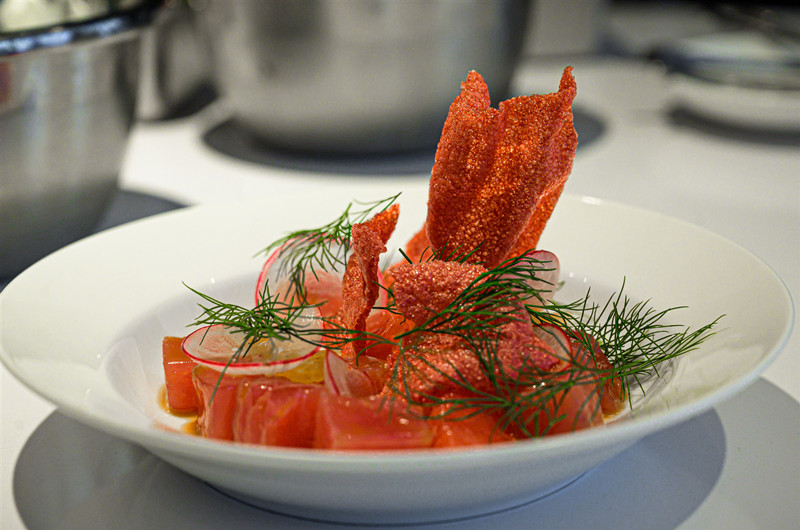 这款吃一口就让人充满幸福感的蜂蜜焦糖苹果蛋糕,来自知名新西兰蜂蜜康维他与Synlait稀奶油的组合。
This bite-filling honey caramel apple cake comes from a combination of famous Comvita honey and Synlait cream. br>
康维他蜂蜜采自于新西兰独有的麦卢卡花, 这种蜂蜜颜色呈金黄色,因产区小和产量少,是较为珍贵稀有的蜂蜜,因其闻名的药用价值在当地被誉为"液体黄金"。

Comvita honey is harvested from the Manuka flower, which is unique to New Zealand. This golden honey is relatively rare and precious due to its small production area and low yield. It is known locally as "liquid gold" for its famous medicinal value.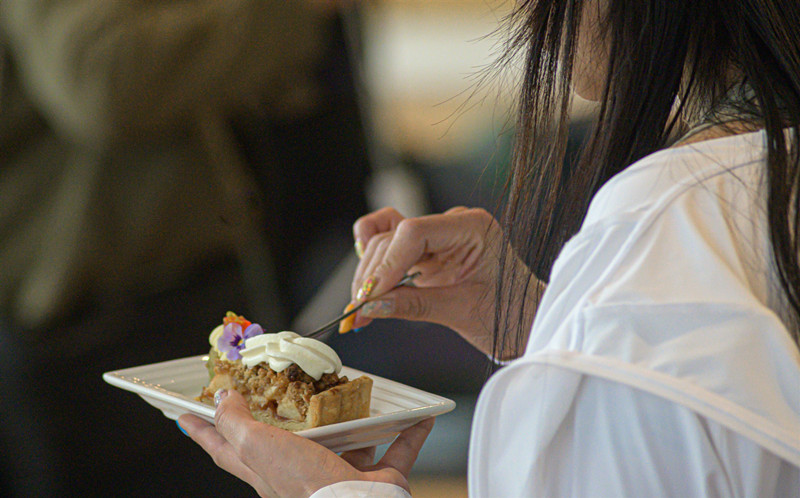 用康维他蜂蜜做的蜂蜜蛋糕带有麦卢卡独有的植物香味,搭配Synlait稀奶油, 风味香甜迷人。

Honey cake made from Comvita honey has Manuka's unique botanical flavor, adding Synlait cream on the top, it's a balance between exotic floral perfume and classic dairy flavours.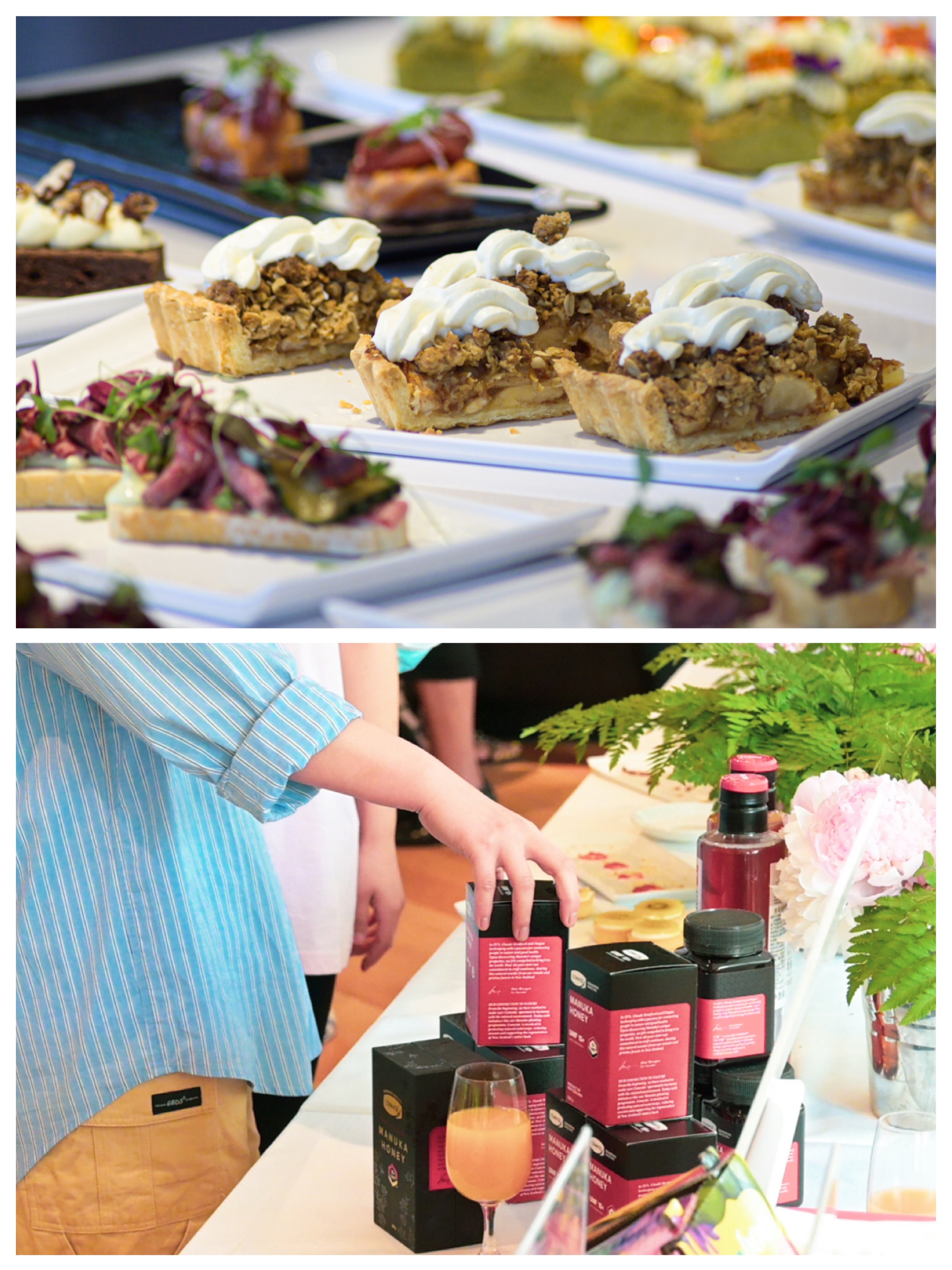 还有用Tatua马斯卡彭做的开心果费雪南,安佳奶油芝士与Zespri奇异果做的水果塔,Synlait奶油做的巧克力脆片朗姆冰激凌和Tatua酸奶油做的渍烤三文鱼等等。在不同食材的搭配下,新西兰乳制品的风味产生了各种奇妙的变化。

Pistachio financier with Tatua mascarpone cream, Anchor cream cheese kiwi tart, Synlait cream with chocolate mousse, and Tatua sour cream with seared salmon, etc. With the combination of different ingredients, NZ dairy products are showcased in fascinating variety.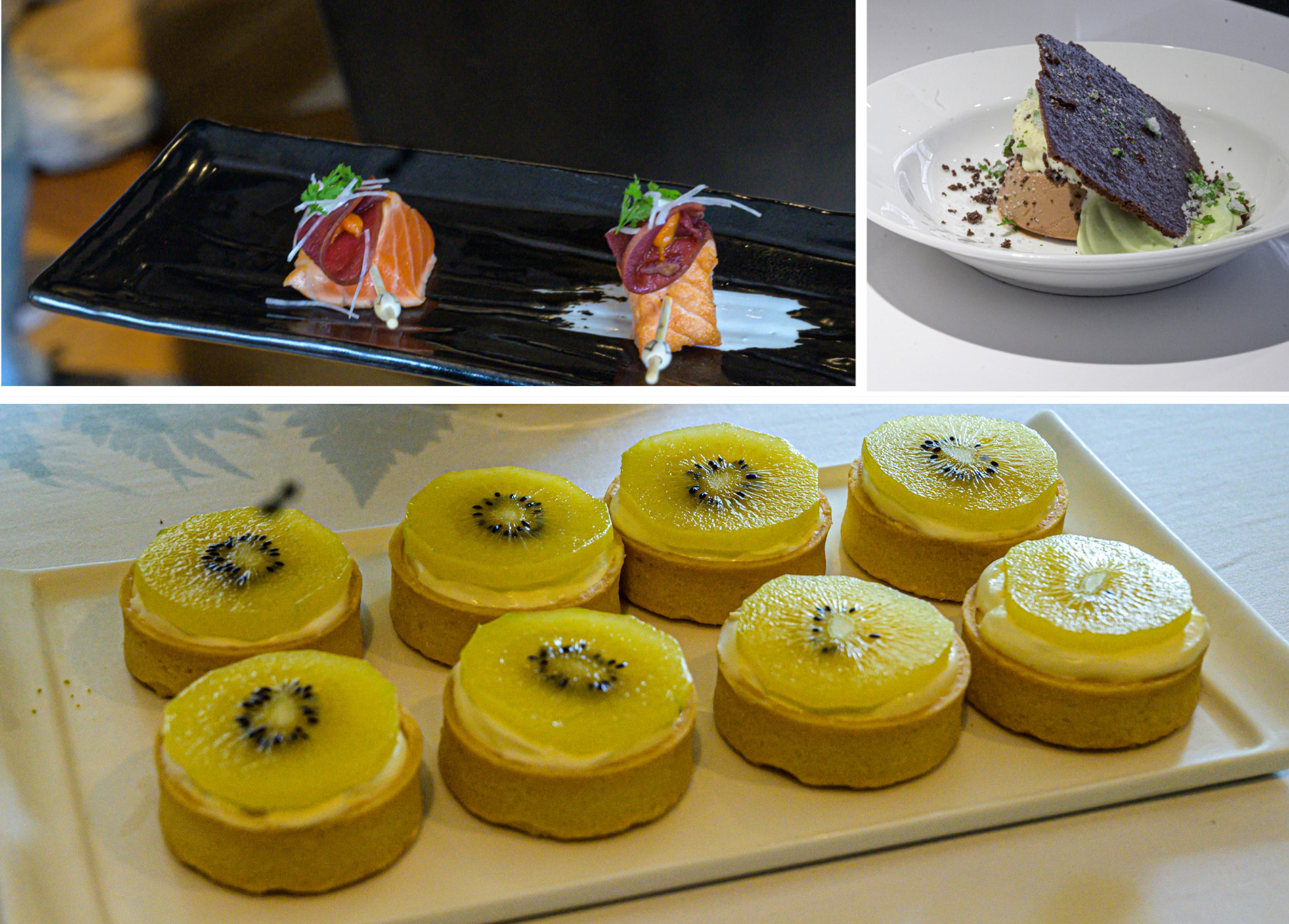 活动当天,ChefCo还为大家送上了一份下午茶礼袋。

On the day of the event, ChefCo also prepared an afternoon tea gift bag.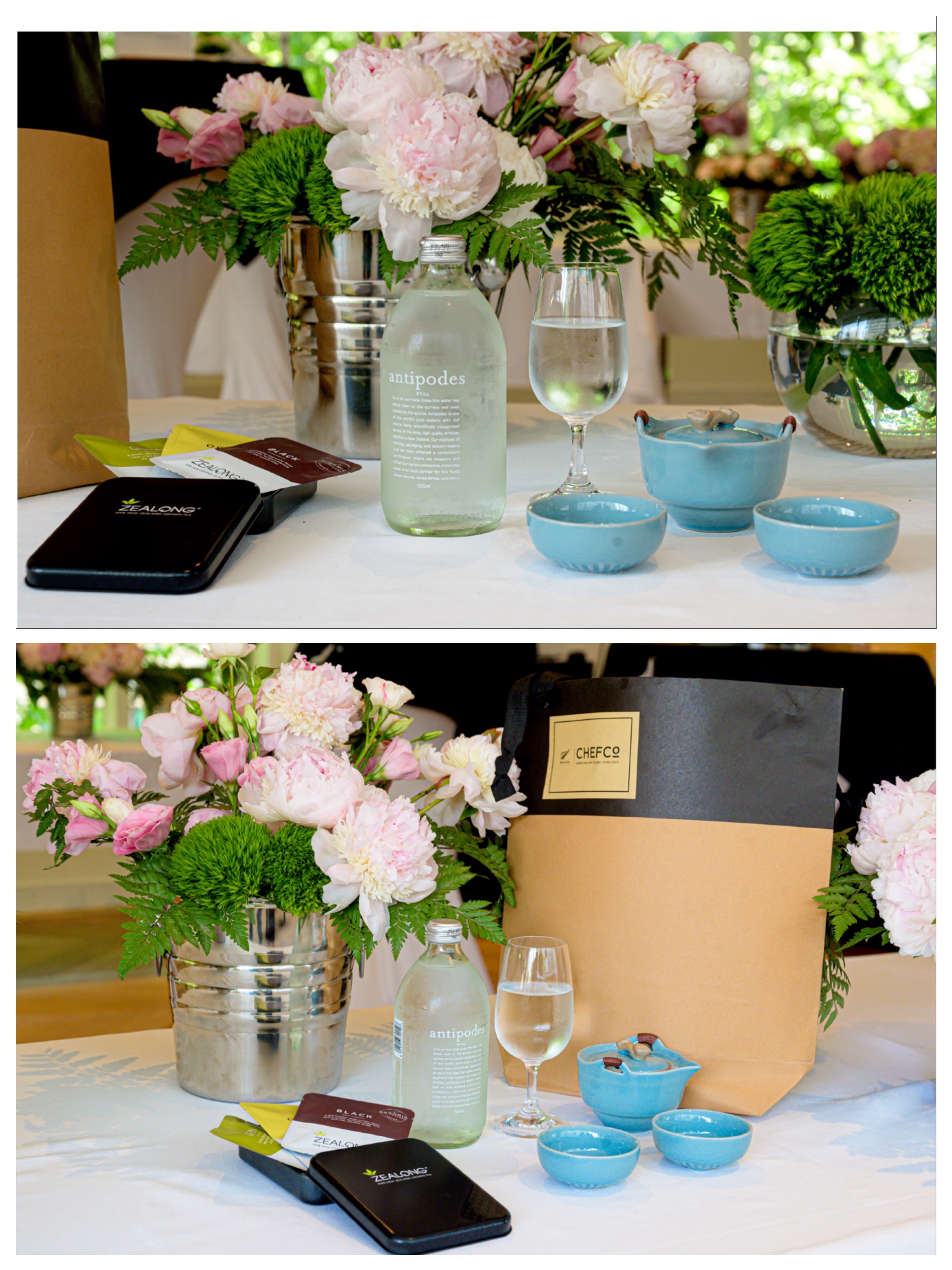 Zealong有机茶产自地理环境优越的新西兰北岛汉密尔顿。因其卓越的品质,已成为了新西兰的国宴用茶。

Zealong Organic Tea is grown in Hamilton New Zealand. Because of its outstanding quality, it has been used for state banquets in New Zealand.

Antipodes纯净水取自新西兰华卡塔尼市地下三百米深的高压含水层,口感纯粹精致,是新西兰的宝藏纯净水。用来搭配Zealong有机茶,是绝对的好水配好茶。

Antipodes Still Water is taken from the high-pressure aquifer 300 meters underground in the city of Huakatani, New Zealand. Its purity and soft texture make it the perfect water pairing alongside Zealong tea.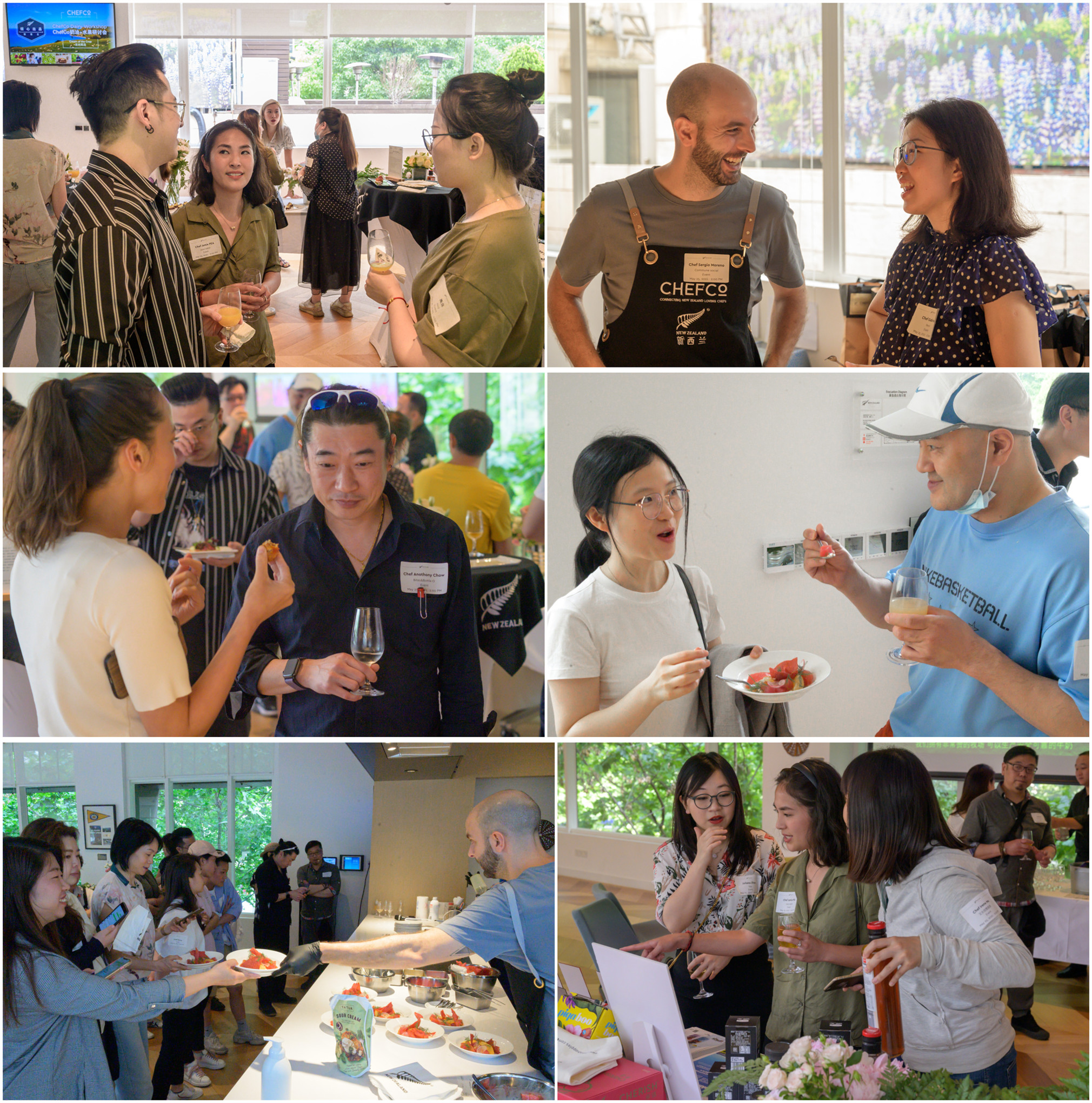 这次的活动吸引了不少女主厨前来参加。在我们当日的主厨阵容中,也有两位优秀的女厨师。ChefCo很高兴看到厨师行业正朝更多元化的方向发展,期待未来能有更多的女主厨加入我们!

This event attracted a lot of female chefs to join us. We also had two excellent female chefs Yoyo and Mia in the day of our workshop. Chefco is excited to see that the chef industry is becoming more diverse and we look forward to welcoming more female chefs to join us in the future!